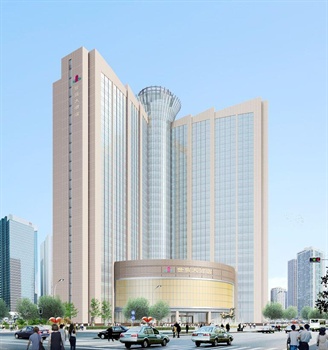 The Dongyang Narada Grand Hotel (Dongyang Shimao Junlan Dajiudian) is located just 1 km (0.6 mi) from the Yongjin Expressway and 20 minutes from Hengdian World Studios by car.
Various private dining rooms and a large banquet hall provide guests with a number of dining options.
Business travelers will benefit from a grand, pillar free multifunctional hall covering 1, 100 sq m (11, 840 sq ft), an international conference center with simultaneous interpretation system and variously-sized meeting rooms.
This Dongyang hotel features a wide selection of recreational facilities. Guests can have fun socializing in the karaoke rooms or night club. They can also enjoy a game of billiards, ping pong or tennis. Those interested in less strenuous recreation can enjoy a sauna, massage or soothing treatments in the spa.